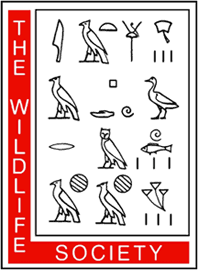 The Wildlife Society is an international, nonprofit, scientific and educational organization comprised of professionals serving the resource management fields, especially wildlife management and natural resource conservation. Founded in 1937 and based in Bethesda, Maryland, The Wildlife Society has nearly 9,600 members from 60 countries. Principal objectives of The Wildlife Society are to:
develop and promote responsible stewardship of the environment in general and wildlife specifically;
take an active role in preventing, minimizing or mitigating human-induced environmental degradation;
increase public awareness and appreciation of wildlife values;
maintain the highest standards of professionalism in all activities;
The Wildlife Society's members are individuals dedicated to advance these objectives. They accept the responsibility of maintaining and enhancing wildlife as an integral part of the human environment. In addition to the national organization, chapters exist at the regional, state and local levels.
The Mississippi State University Student Chapter of the Wildlife Society was founded in 1971.
2017 TWS Southeastern Student Conclave
---

Return to CFR home page
If you have questions concerning this site, contact webmaster
This page last updated February 3, 2017